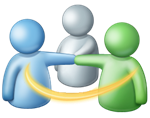 The last time Windows Live Groups got any significant upgrade was back in the Wave 4 update in 2010. Since then, Microsoft had been shifting the focus away from Groups, and organizing it as a subset of SkyDrive, despite its strong ties with Calendar and Messenger. In the latest update, Groups did manage to receive the "modern" makeover, but failed to receive any major feature updates, and instead Groups has lost its standalone homepage and Microsoft has made it harder than ever to access each of your Groups' main profile page.
Despite not gaining any new features, it seems like Groups is about to lose another feature. If you visit your Group's profile page today, you'll see a notice indicating that Microsoft will soon be removing the "discussions" feature in Groups, and encourages you to download the existing discussions should you choose to archive them somewhere:

This doesn't come as a surprise to us given that Microsoft had been refocusing its web services to become less of a social network in itself, but rather to become the single destination to connect all your other social networks to your Microsoft account. In fact, Profile had lost its "notes" and "private messages" features a long time ago, both sharing a common origin as Group's "discussions" feature back in the Wave 3 days.
With Windows Phone 8 about to introduce a new feature called "Rooms", questions remain as to whether it will have any relationship with Windows Live Groups, or will it directly replace Groups?