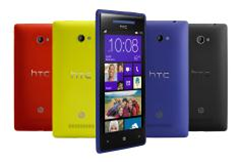 From the looks of this new HTC 8X promo video (via Redmond Pie), HTC is taking the "Modern" look and feel of Windows Phone to heart.  The video (which, while it is on the HTC YouTube page, is unlisted so you need the link to find it) shows off the 8X, including its low light and wide angle camera features, using a very Metro Modern style.
HTC announced the "Windows Phone 8X" and its smaller cousin the 8S at a press event in New York two weeks ago, much to the chagrin of Nokia, who apparently isn't too happy how similar the 8X looks like the Nokia 920.
Anyway, here's the video.  While we're still going to probably hold out for a 920 based on Nokia's software offerings like City Lens, Nokia Music, and Nokia Drive, we have to say that the 8X is looking good, too:
[youtube_video]O9AMxslIGIE[/youtube_video]
What do you think of the HTC 8X?  Will it be your next phone?