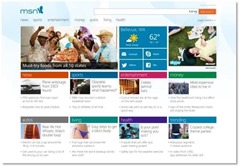 When Microsoft releases Windows 8 at its launch event on October 26th, it will have at least one shiny new website to show off IE 10 and Windows 8 – an all new, redesigned for Windows 8 and IE 10 only "MSN for Windows 8".
Launching October 26th alongside the Windows 8 launch, MSN for Windows 8 "will be the first thing you experience when you launch Internet Explorer 10 on your new device".  A blog post on the MSN blog describes the new design:
At first glance, you will notice the new look and feel. The new MSN is a full-screen experience that is clean, simple and built for touch. Whether you're reading daily headlines or catching up on the latest gossip, the experience is intuitive and consistent. The content flows from the homepage to channels without interrupting the visual layout, and you'll know what stories are most important, just by viewing the size of the story tile.
The new design will take advantage of the more "app-like" experience of IE 10 for Windows 8 (and oh btw, what are we calling the "Metro IE" now that "Metro" is verboten?  so confused), making use of Flip Ahead to quickly jump from page to page, allowing users to "Snap" favorite pages into a Windows 8 sidebar, and offering page renders "twice as fast" as the classic MSN experience.
Here's a quick look at MSN for Windows 8:
While we're not sure how many, if any, 3rd party websites will take the time to create Windows 8 only website versions, from first glance MSN looks like a worthy showcase for what can be done with Windows 8 and IE 10.  What do you think?