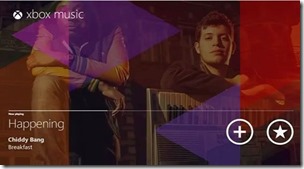 Microsoft announced their new Xbox Music service back in June during their E3 press briefing, set to "reimagine" the existing Zune services by using the power of Xbox Live to make music easier to discover, distribute and consume. Details were vague during the announcement, and many question remained. Paul Thurrott first reported that the new Xbox Music service will have SkyDrive integration, allowing users to store their music collection on the cloud and play them on any cloud-connected device. Later on another rumor surfaced indicating that Xbox Music will come with free ad-supported streaming as well as a "scan-and-match locker service".
Today, The Verge reports that they have heard from multiple sources that Xbox Music will indeed come with SkyDrive integration and ad-supported streaming. Below is an excerpt:
Multiple sources familiar with Microsoft's plans have confirmed the new service will launch at the same time as Windows 8. We're told that subscriptions, like the current Zune Music Pass offering, will be available alongside a free streaming service supported by ads — similar to Spotify. The service will be available on Windows Phone, Windows 8, and Xbox 360.

A key part of the service is Microsoft's SkyDrive integration that will allow users to store music and playlists in a cloud collection — available across multiple devices.
Release dates regarding the launch of the service was also detailed – the Xbox Music service is set to launch on October 26, the same day Microsoft is set to launch Windows 8 and its Microsoft Surface RT tablets. The company is also set to release an update to its Xbox 360 dashboard, as well as the Xbox Music and Xbox Video apps on Windows 8, to support the new features around the October 26 timeframe. Whilst Microsoft has plans to bring Xbox Music to other platforms such as iOS and Android, it was reported that these apps will not be available during launch.
With Microsoft rumored to be launching Windows Phone 8 also towards the end of October, it appears October is set to be one of the busiest and most exciting month for Microsoft.