In a blog post on the Bing Search blog today, Microsoft announced that it is expanding the People Who Know section of the Bing sidebar (in the US) to include news authors.  From the blog post:
Now, when you search for a topic, authors who frequently write articles related to your query will appear alongside other experts and enthusiasts in the sidebar.  Hover over the person's name to learn more about them, see their top articles related to your query, or link to their Twitter page.

…

While the sidebar provides a summary for some authors, you'll see a link to "See all articles" which takes you to that author's articles related to your query right in Bing. We're just beginning to surface the countless number of authors out there to build this feature, so while we won't have author pages for everyone, we're hard at work to grow our coverage so stay tuned.
We tried it out (with a search for iPhone), and found a number of news authors complete with links to their articles, and a bit about them at the top: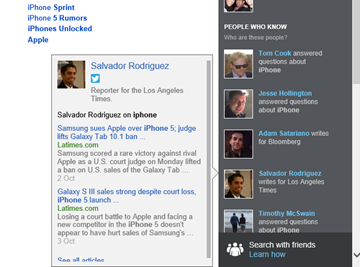 Clicking on the "See all articles" link at the bottom of the page brings up an "iphone author:Salvador Rodriguez" search result page, complete with a button to follow Rodriguez on Twitter:

Are you using the Bing sidebar?  We haven't found the social results too useful, but we're beginning to see the potential in the "People Who Know" section.  How about you?