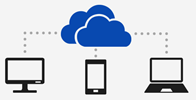 First up on the list of "built-in" Windows 8 apps to be updated, as outlined in a blog post on the Building Windows 8 blog earlier this week, is SkyDrive. The update just appeared in the Windows 8 Store, and updates the app to Version 16.4.4388.928.
The SkyDrive app is the first in a list of Windows 8 apps to be updated, including Bing,  Mail / Calendar / People / and Messaging (where we should get a first look at the long awaited upgrade to Calendar), Maps, and Music and Video (where we should hopefully finally get a look at Xbox Music).  Included in the update are a new first run experience, complete with an animated video that is probably long on minimalist graphics and short on real information, but hey.  Also included are the ability to now search from the Windows 8 Sidebar within your SkyDrive:

You can also rename and move folders and files, using a new Manage control available in the taskbar within the app (right click on a file or folder, or swipe up on a touch enabled device).
The Recycle Bin is also now available through the app, although clicking it takes you to the web based SkyDrive via the Windows 8 Style Internet Explorer.
As noted by Paul Thurrott, the newly updated app also has added support for the Share charm, so you can share items from other Windows 8 apps straight to your SkyDrive, via the Share Charm: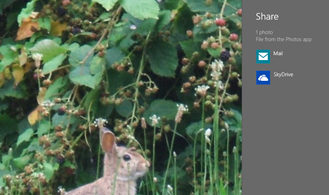 You should be able to find the update to SkyDrive by going to the Windows 8 Store from within Windows 8.