A few days ago we shared a tip about a new feature of the Bing home page, the ability to download those iconic images.  Well, the feature just showed up here, and it works as expected, with a twist:  If you've already associated your Facebook profile with Bing, you'll get straight to the download dialog, but if not, you'll have to connect to Facebook first.  Here's what that experience looks like:

We just happened to notice the Facebook angle because we were temporarily signed out of Facebook, and our tipster the other day probably was, too.  One other tidbit: you don't appear to be able to download any of the previous images, only today's.  Once you do download or open the image, it is watermarked with a Bing logo in the lower right, as you can see: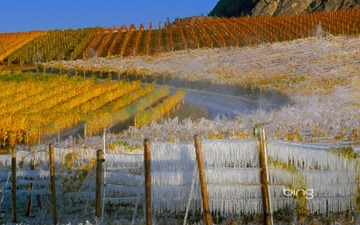 No word of the new feature as of yet on the Bing Search blog, so maybe we're just part of a test, too.  Are you seeing the new download feature?  Is the ability to collect cool images enough to get you to connect Bing to Facebook?  Or are you already connected?