If you're running the RTM version of Windows 8 (if you're not on MSDN, you can try out a 90 day Evaluation while you're waiting for that $39 upgrade in 3 weeks), you can now get updated versions of more of the "built-in" Windows 8 apps, including new versions of News, Sports, Maps, Bing, Photos, and Mail / Calendar / People / Messaging, along with the update to SkyDrive we already told you about.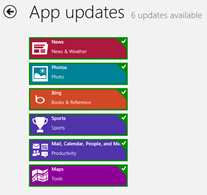 If you don't see the updates in the Windows Store, just open the store and go to Charms>Settings>App Updates>check for updates (thanks Andrew!).  A blog post on the Building Windows 8 blog listed most of the changes, and we're still waiting for updated apps for Finance, Travel, Weather, Video, Music, and Games, but it's good to see IMAP support in Mail, crop and rotate in Photos, and a nice new treatment of Bird's eye view in maps: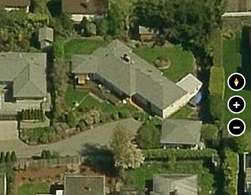 Once you zoom down to close enough (if Bird's eye is available), the icon above the plus and minus buttons toggles between the four points of the compass and a square for straight-down aerial view.  It's a nice simple treatment that makes it easy to switch between views (you can still toggle between Road and Aerial view by right clicking or swiping up from the bottom on a touch device).
We're still getting used to the idea of leaving our old tried and true desktop apps behind (something that will come much easier once we get our hands on a Surface tablet) but we're more impressed with this set of updated apps than we were when they first came out.
Are you impressed with the new apps?  Let us know what you think.