Microsoft unveiled the details of its new Xbox Music service tonight, combining an ad supported free music service with the Xbox Music Pass to bring a catalog of over 30 million songs to Windows 8, Windows Phone 8, and Xbox 360 devices.  In a press release and the launch of Xbox.com/music, Microsoft laid out plans that may be the first real look at its new "Devices and Services" strategy, offering a compelling set of services but only for its newest devices, that is computers running Windows 8, Windows Phone 8 devices, and the Xbox 360:
Xbox Music, Microsoft's new all-in-one music service, specially designed to let users listen to music in exactly the way they want, begins rolling out to millions of people around the world Oct. 16 on the Xbox 360, then to the masses with Windows 8 on Oct. 26.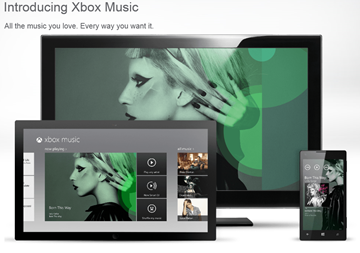 While the services are compelling, they're not quite as simple as it may first appear, so let's go through the details:
Every Windows 8 device, either a current Windows PC upgraded to Windows 8, or a new Windows 8 PC or tablet or Windows RT device, will come pre-installed with Xbox Music, the default music player for Windows 8.  As long as users have an internet connection, they will be able to stream free, ad-supported music, make playlists, and purchase and download music.  After 6 months, users will be limited to 10 hours of free music streaming per month.  "Xbox Music also has options for those who want to integrate their personal music library into their "digital music life", according to Scott Porter, principal program manager for Xbox Music, from the press release.  Later in the press release, it says:
In addition, until now, it's been complicated for users to incorporate their personal collection of MP3s or ripped CDs and have access to all of that music on any device, anywhere they go.
However, it's a bit unclear, at least from first reading,  how you will be able to listen to your personal collection on other devices.  Will an Xbox Music Pass allow you to play your current collection on any device, a la iCloud? (another edit: this is from the Xbox Music Pass page, which says: "Have a Windows 8 tablet or PC? Your music collection effortlessly syncs with your phone and TV, including playlists you create.", so a bit clearer, but read on)
The Xbox Music Pass, which will cost $9.99 USD/mo., will then allow users to "take that music to the cloud", and by creating music "mixes and playlists", "artist based Internet radio stations", or using Smart DJ, they will be able to play them on Windows Phone 8 devices.  For Xbox 360 users an Xbox Live Gold membership and an Xbox Music Pass will be required, and there are some other caveats, too (from Xbox.com/music):
On TV, Xbox Music is streaming only and requires an Xbox 360 console and additional subscriptions (each sold separately). Some Xbox Music content may not be available via Xbox Music Pass, and may vary over time and by region.
There's no mention of Windows 7 or Windows Phone 7.xx devices in either the website or the press release, although the press release does say:
The Xbox Music app will even eventually be available on platforms such as Android and iOS as well
(edit: The Verge has clarified that Xbox Music is indeed for Windows 8/WP8 and Xbox 360 only.  Zune will still work on Windows 7 devices)
Clearly Microsoft is positioning Xbox Music as a major selling point for Windows 8 and the future of their "devices and services" platform.  Suddenly an upgrade to Windows 8 (for $39), or a purchase of a Windows RT device (with a subscription subsidized price, perhaps?) that comes with free music gives Microsoft a bit of a competitive edge.
(and another edit: TechCrunch has some info on global availability):
The free, ad-supported music streaming service will be available in 15 markets countries worldwide at launch. Meanwhile, the subscription Xbox Music Pass service will be available in 22 markets worldwide, as will the Xbox Music Store. And the team plans to expand into more markets as time goes on.
We'll have lots more on Xbox Music, but what are your first impressions?