Microsoft took the lid off a bit early this morning, and TechCrunch was able to reveal the pricing for the Microsoft Surface RT tablet, and despite our wishful thinking, it isn't coming in anywhere under our price point predictions, that's for sure.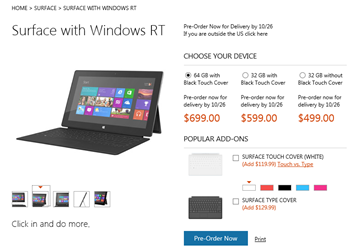 The pricing for the Surface RT is:
Surface RT 32gb – no cover $499
Surface RT 32gb with Touch Cover – $599
Surface RT 64gb – with Touch Cover – $699
Touch Cover $119
Type Cover $129
The Microsoft Surface page just opened links to the Microsoft Store, now open for pre-orders, "for delivery by 10/26".
We have to say, that although the pricing is certainly "comparable" with the iPad and other devices, it's coming in at the high end of the market with an almost empty Windows 8 Store for apps (at last count, it's about 4,000 apps, most of them somewhat dubious games), an extra cost for the Touch Cover.
Of course Microsoft can't play too aggressively with price, as it has to balance keeping its OEM partners happy (and they weren't too happy at all when the Surface was announced!), and competing in the marketplace.
So what do you think about the Surface and this pricing?  We have to say that we'll have to think long and hard about spending $600 for a device with no cellular connection and only 32gb of storage.  Are you ready to pre-order?