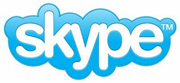 Skype has been busy along with just about everyone else at Microsoft this week, announcing a new Skype for Windows 8 client coming on October 26th , and today announcing the release of Skype 6.0 for Windows and Mac.
The new client features a number of continued integrations with Skype's new Microsoft overlords, including the ability to sign in to Skype using either a Microsoft account or your Facebook credentials, "no need to create a new Skype account", the ability to IM with Messenger friends, and coming soon, a feature "which will enable audio and video calls to Windows Live Messenger customers using Skype desktop clients. The feature will be available in coming weeks".  In addition, the Skype blog lists a number of improvements to the Windows client:
Skype localized to six more languages We are excited to support our growing community around the world with new localized versions of Skype in Thai, Croatian, Slovenian, Serbian, Catalan and Slovak, bringing the total languages Skype supports to 38.
Visual user interface refresh We have refreshed and flattened the Skype UI with a simpler and less cluttered look. We have updated the look of the instant messaging and SMS areas as well.
Removal of online user count We have removed the online user counter at the bottom of your Skype Contacts list to unclutter the UI and make more space for your friends within the contacts list.
Display previously created profile pictures When you change your profile picture, we will now show you all of your previous Skype profile pictures so you don't have to look through old files if you want to use a previous image.
Improved telemetry We are constantly looking for ways to improve the quality of our product. To that end we are adding additional "opt-in" telemetry reports for users who choose this option: "Tools>> Options>>Advanced>>Tick "Help improve Skype…" The reports may contain your Skype ID and or Microsoft Account ID but we will not use it to identify or contact you.
… and there's more about changes to the Mac client, too.
Once you download the new Skype (for Windows or Mac), you're at first greeted with a reminder that Skype lives in a Microsoft world now, with a prompt to set Bing as your home page: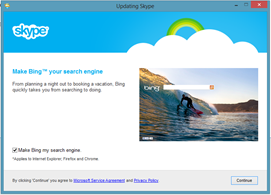 After that, you're up and running, and if you log in with your Microsoft account, not only your Messenger buddies but also your Facebook friends (that is, if you have Facebook added in Messenger) will show up in your contacts.  You can filter them from within the contacts list: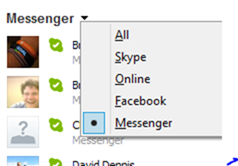 We're pretty used to the Messenger client, having used it since 2005 or so, and messaging on Skype will take a bit of getting used to, but we're going to give it a go.
In a The Verge blog post about the upcoming Skype for Windows 8 client, Skype's Derek Snyder was quoted as saying "For the last six months or so we have been moving people to the Messenger backend", and today's announcements seem to further our premonition that Microsoft is in the process of moving away from the standalone Messenger client, as they probably should, given the investment they've made in Skype.  By continuing to use the Messenger backend, which should allow existing Messenger users around the world to continue to use legacy clients, but moving forward with Skype as the new default interface for all of Microsoft (and other) messaging, Microsoft now seems to have a way forward.
Of course we'll be a little sorry to see Messenger go, but it looks like its time has come.  We're in the process of making a trial run of a switch to Skype, are you?