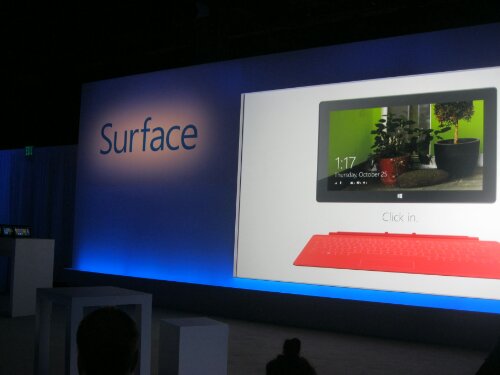 Looks like the keynote wasn't the only thing Microsoft had to tell us today; press attendees were just whisked away to a hidden Surface stage. The presentation begins in 10 minutes. As before, we are going to LiveBlog the event.
1:30pm – Announcer: "Please take your seats, the presentation will begin in a moment."
1:33pm – Down go the lights. Enter Surface ad, same one initially used to unveil it last summer. Steven Sinofsky took the stage. Reinventing Windows Passion fits the product, feeling of Surface (aka the "surface dance") video now being shown.
Panos Pinay Surface product lead, just took the stage to discuss Surface. removed touch cover, to focus more on the device itself. 10.6″ ClearType display, custom batteries, "has to feel light, has to feel right". Only 1.5 lbs!
Demo time! Showing off The Avengers – streaming to Xbox 360 via SmartGlass. Next up, Xbox Music streaming. Real content, coming to you. Moving right along with a Hydro Thunder demo on Surface. Thinnnest cover glass on any tablet, and an onstage drop test to prove Surface's strength.
Panos: "You can have every confidence Surface is going to kick ass for you."
Steven Sinofsky briefly returned, mentioning the now-infamous 'skateboard' video.
1:55pm – 3 hinged kickstand. Panos is showing practical uses, such as the show me scenario for photography and video. Part of the memory, vs. behind the memory.
Touch cover now being shown off. Uber point, according to Panos, is the fact that Office 2013 is included. Touch cover allows you to type quickly and naturally. Simultaneously type and record! Touch cover is smart, automatically wakes Surface when opened.
Annie Wang, from HerCampus.com, has been introduced. Writing a blog post (Word 2013 tie in)
2:10pm – Steven Sinofsky took the stage once again. Surface – is it a laptop, a tablet, or both? Closing remarks? Looks like it. Cue Surface ad #3, and up go the lights.