The updates are really coming in hot and heavy now, with today/tonight's Windows 8 launch hard upon us.  The latest one, this time to Windows.com, features a new clean (although not quite so boxy as some "Metro" makeovers) and bright interface that is broken down into four categories: Meet Windows, Download & Shop, How-To, and Support: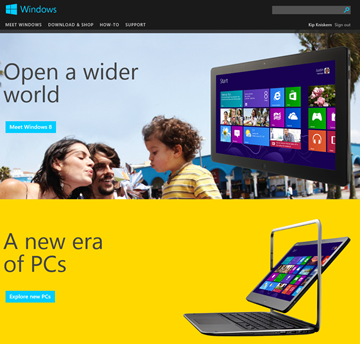 In addition, the site offers, for a limited time, a free upgrade for Media Center Upgrade, along with an offer for Windows 8 Pro Pack:
Add Windows Media Center to Windows 8 Pro

If your PC is running Windows 8 Pro and you'd like to get Windows 8 Media Center Pack so you can watch and record live TV with Windows Media Center, you can take advantage of the following special offer:

For a limited time, get Windows 8 Media Center Pack for free **

To receive a free product key and get Windows 8 Media Center Pack, provide a valid email address in the space provided. Once you receive your free product key through the email address you provided, follow the instructions for adding Windows 8 Media Center Pack that appear later on this page.
From there, you just need to enter an email address to receive (one) free upgrade to Windows 8 Media Center.
And, in an area we have spent/will spend a lot of time in, the Windows blogs are also sporting a brand new look: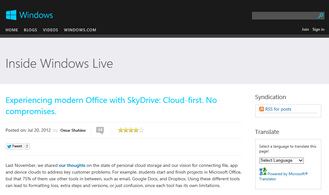 Again, a much cleaner interface, but at this point it looks to be just a new theme, with all of the same blogs (including Inside Windows Live and the Windows Live Developer blog), but that's not a bad thing.
We'll have lots more to come in the next few hours (and beyond), so stay tuned, including getting tuned in to a Media Center upgrade, for free!