A few weeks ago we told you about one of our tipsters spotting an internal to Microsoft Bing home page with what appeared to be a Deep Zoom home page image, and for most of the world, a 360° image view is indeed is now seeing the light of day: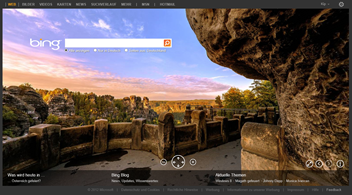 This still image doesn't come close to recreating the experience, as the high resolution and fully zoomable view rotates slowly around in a perhaps somewhat dizzying manner, or you manipulate the photo to zoom in or look up or down.
However it's not quite Deep Zoom or Photosynth, but an image from 360 Cities, a maker of professional and user submitted panorama images.  Back in April of 2011, as you may recall, Bing Maps Architect Blaise Aguera y Arcas announced that as part of "Read / Write World", Bing would be working with 360 Cities.
Hopefully you're able to see the image, a quick check of Long Zheng's Bing Image Archive shows it to be showing up around the world, including here in the United States, where it just went live in the West Coast a few minutes ago.  Enjoy!