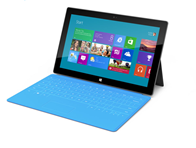 Yesterday, right at the end of the Microsoft Surface keynote, what appears to be another Surface ad was shown, one that as I said yesterday was very "Brandon Foy"-like.  As I was already running late for a couple of appointments on the way to work, I reached out and asked for a link to the video if it was available, and when I got a response, I posted from my phone, without actually looking at the video.
While that ad is also indeed cool, it wasn't the one I was talking about.  Now today, the Foy-ish ad still hasn't appeared on the Microsoft Surface channel on YouTube, but I was able to find it as someone posted the keynote, conveniently broken up into parts.  Here's that video (you can jump to about 1:55, or you can just watch Steven Sinofsky gush over Surface first):
[youtube_video]xLvrJp3RowA[/youtube_video]
Still waiting for this ad to appear officially online, but hoping we'll be seeing a lot of it this holiday season!