We're here at the Windows Phone 8 launch event, having survived a World Series winning San Francisco last night, and Joe Belfiore is on stage introducing the new phone to a gathering of journalists, bloggers, and enthusiasts.
First up is the new lock screen powered by Live apps.  Joe introduces Facebook, up first, which can show a full screen photo from Facebook, Skype, ESPN, Angry Birds, and many more.  Joe has just announced that 46 of the top 50 apps will be coming to Windows Phone 8.
Some of the new apps, including lots of games, Living Social, Urban Spoon, and Pandora for Windows Phone 8, coming early in 2013, including a year of ad-free music.
The Windows Phone 8 SDK will be available as a public download beginning tomorrow, from Build.
Next up is "Data Sense", which keeps track of your data plan.  Data Sense compresses web pages, finds wifi hotspots, and reminds you when your data plan is getting filled up.  Microsoft tested and found that they were getting as much as 45% more data when using data plan.
Next up is Kid's Corner, which creates a separate place on your phone, which allows your kids (or anyone you lend your phone to) to be able to use your phone without messing with your stuff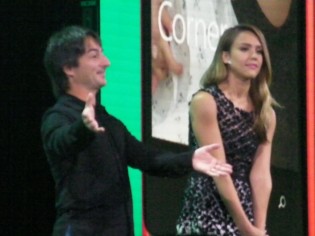 Jessica Alba just came onstage to talk about Kid's Corner, her use of Windows Phone, and her new company.
Next up is Rooms, which groups photos, calendar, and more all into a group.  The Windows Phone 8 will ship with a room, "Family", to give new users a sense of what Rooms does, but you can create your own rooms.
Joe is now talking about SkyDrive, and how it powers using your phone, PC, and Xbox all together.  Photos, Xbox Music.
Available this fall, the Mac sync will let you move your Apple iTunes to the Windows Phone.
Steve Ballmer just took the stage, to talk about availability, etc.  Windows Phone will go on sale in Europe beginning this weekend, and will be available on Verizon, ATT, and T-Mobile
And now we're being invited to get our Windows Phones
We'll have lots more soon, but for now we're packing our gear and heading for the back!