During the Windows Phone 8 launch event today, Microsoft CEO Steve Ballmer teased a new Samsung Windows Phone 8 device that is coming to Verizon this holidays – the Samsung ATIV Odyssey. Check out the slide from the event below, courtesy of The Verge: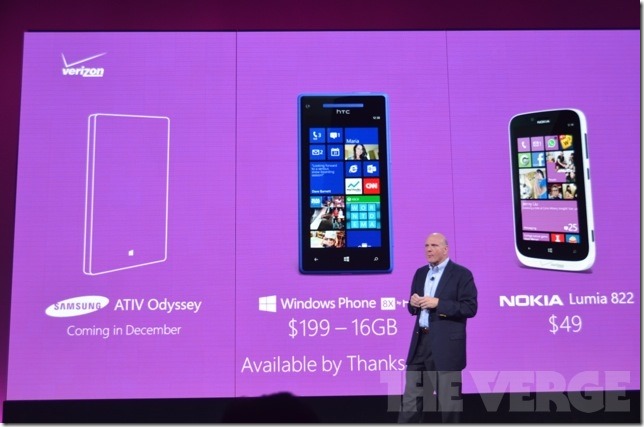 The device will join the HTC 8X and the recently announced Nokia Lumia 822 on the carrier. However, no other details about the device were revealed.
What is interesting is that we have heard about the "Odyssey" name from Samsung back in July before. According to court documents from the Apple vs. Samsung case, the "Odyssey" is a Windows Phone 8 device said to launch in Q4 2012, which will come with a 4.65" HD Super AMOLED screen, 8 megapixel camera (and 2 megapixel front facing camera), dual-core 1.5Ghz Qualcomm MSM8960 chipset as well as NFC and LTE support. Below is an image of the court documents, which we posted back in July: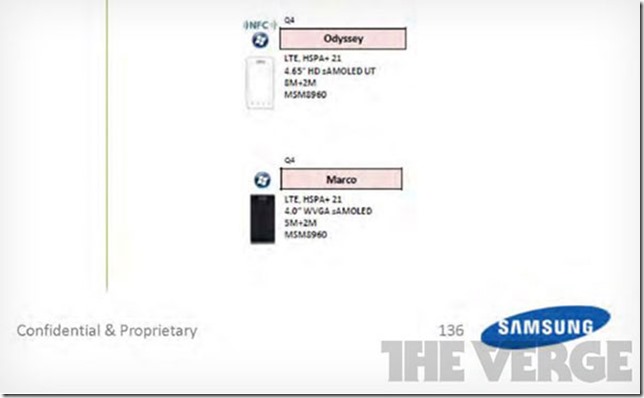 When the Samsung ATIV S was announced, it was widely speculated that it was the long-rumored Samsung "Odyssey", albeit with a larger 4.8" screen. Could the "Odyssey" be a completely different device altogether? And what about that Samsung "Marco", which is also said to be coming in Q4 2012 in the slide above? Hopefully we won't have to wait too long to see more Windows Phone devices coming from Samsung!