Microsoft has officially unveiled Windows Phone 8 last week, however, the company did not mention a single word about the upcoming update to existing Windows Phone devices – Windows Phone 7.8. To this date, nothing is known about the update except for an upgraded Start screen similar to Windows Phone 8's, and Microsoft refuses to confirm nor deny whether there's anything else more than the Start screen.
Today, Nokia China put up a "Lumia Experience Store" at Raffles City, Shanghai, allowing shoppers to try out the Nokia Lumia phones as well as the Microsoft Surface. The Nokia Lumia 510 was available as one of the demo devices, but perhaps more interestingly a Nokia Lumia 900 running Windows Phone 7.8 was shown. A few users on Sina Weibo had posted up pictures of the device, check them out below: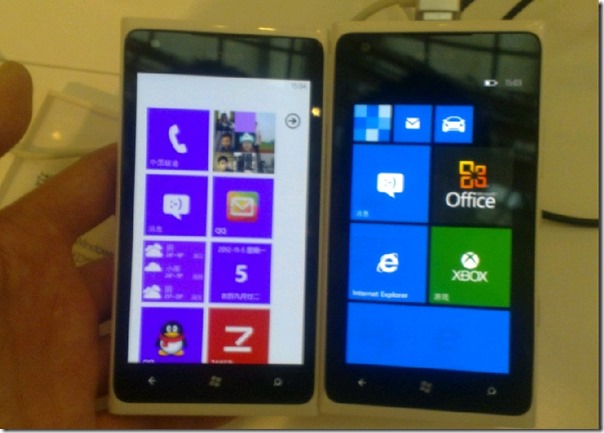 According to the Sina Weibo user Kevin Liu, unfortunately he did not find too much new features besides the new Start screen. The OS did not feature native screenshot capabilities, nor had there been any changes to the camera interface. Other details were not known, including whether or not there would be new or improved APIs in the new OS update. Last week, Microsoft Italy via their Facebook page revealed some details about WP7.8, however this was shortly pulled afterwards. Below is a translated version of Microsoft Italy's post:
The upgrade to 7.8 will be available for versions 7.0 and 7.5 shortly after the marketing of the devices Windows Phone 8. Among the features there is the new Start screen, the sharing of the calendar using the Rooms function and access to key services and content Microsoft, including Xbox Music Store library that can be enjoyed by Zune and Xbox SmartGlass.
What are your thoughts about the Windows Phone 7.8 update? Are you expecting anything more than the new Start screen? Let us know in the comments below!
Update: A video demo of Windows Phone 7.8 on the Nokia Lumia 900 was posted by the Sina Weibo user Kevin Liu. The OS version seems to be 7.10.8847.619. Check it out below: