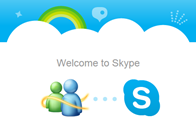 Just a few minutes ago, Microsoft President, Skype Division, Tony Bates announced a new version of Skype that is set to replace Windows Live Messenger, which is being retired in the first quarter of 2013.  At the same time, Brian Hall from what used to be Windows Live posted on what he announced was "the final post" on the Inside Windows Live blog (to be fair, the last post was from July), laying out some of the reasons why Microsoft is making the switch (and perhaps why it bought Skype in the first place):
A lot has changed for IM and Messenger. We started to text more on our phones, to broadcast messages on Facebook and Twitter, and Skype became the best way to have video and voice calls (in addition to also letting you IM).
Later in the post, Hall hints at more to come for Skype, including integration with Outlook.com:
We're confident that Skype provides a better experience and even stronger network – today and even more so in the future, especially with the addition of the Messenger network.

And most importantly, because more of the people you care about will be on Skype, you can connect in richer ways, and you can be connected on more devices and platforms. We will enable Skype to work better with Outlook.com than Messenger ever has too.
By the way, if you do make the switch to Skype, since it uninstalls Windows Live Messenger, you'll only be able to get to your Messenger history via Outlook.com (unless you want to parse the xml files stored on your computer if you chose to save your conversations).  Currently, Skype has the ability to save your conversations, but they won't show up on Outlook.com… yet.
So sort of a sad day, but at the same time, like Brian Hall, we're "excited about a future of amazing devices and services!".
Let us know if you've made the switch, or if you haven't, why not?