Earlier this week, we reported on a The Verge post saying that Microsoft is planning to retire Windows Live Messenger in favor of Skype, the service it acquired back in May, 2011.  Now today, Skype has made the retirement official, posting on The Big Blog, the official Skype blog:
We will retire Messenger in all countries worldwide in the first quarter of 2013 (with the exception of mainland China where Messenger will continue to be available).
Although Skype just updated its Windows and Mac clients recently, there is a new update, with a big difference: this new update will uninstall Messenger as it moves you to Skype.  We've gone ahead and made the move here, just to try it out, but do be careful: if you're not sure that you're ready to leave Messenger just yet (you'll have until the "first quarter of 2013"), don't install this latest update.  You will be prompted to complete the un-installation: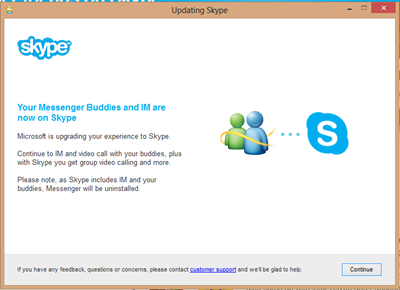 Switching full time to Skype from Messenger, which we've been using for years, and in many ways was the reason we started LiveSide (the founders of LiveSide all met in a series of MSN Messenger beta programs) is going to take some getting used to, but as we've said before, it really doesn't make much sense to keep the two products running side by side, and the handwriting has been on the wall for Messenger for quite some time.