A few weeks ago some tipsters noticed the ability to download a home page image from www.Bing.com, which was apparently being flight tested among some, but not all of us.  Then it disappeared, and a full page image icon appeared instead.
Now today, according to a post on the Bing Search blog, the functionality is back, this time for good:
Now when you visit Bing you'll see a download icon at the right hand side of your screen.

Simply click on the button, connect with Facebook and you can download the image to your computer. We also offer a new way for you to view the homepage in full-screen mode, by clicking the intersecting arrows.
So if you want to keep that favorite home page image, just click on the download icon, but as we noted earlier, you'll have to be connected to Facebook, that still holds true: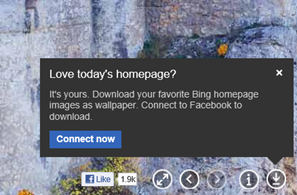 It doesn't look like the folks at Bing are quite done testing new stuff, either.  Thanks to a tip from Ray (thanks!, and remember we welcome tips and feedback of all kinds!), it looks like Bing is trying to feature more information about the daily image, this time using an orange box: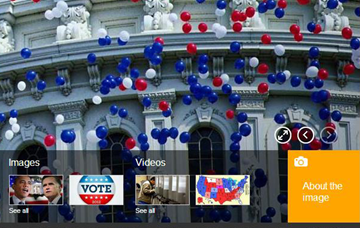 Clicking on the orange box opens up more information, as you'd expect: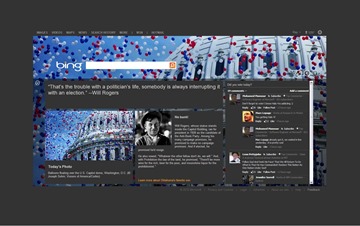 Anyone else notice anything new about Bing?