At the Windows Phone 8 launch event in San Francisco last Monday, Microsoft announced a set of applications to make it easier to sync your music and photos to your new Windows 8 phone, including syncing (non-drm) music and playlists from Apple's iTunes.
The Windows Phone app for Windows 8 has been available since just before the launch event, but another component, the Windows Phone App for Desktop, which allows users to sync their iTunes or Windows Libraries from Windows 8 or Windows 7 (or, with the Windows Phone app for Mac, from a Mac), was just released a few days ago.
The app allows you to sync music, playlists, photos, videos, and ringtones, but does not allow for any management of music or playlists, like the Zune app does, for example, or the Xbox Music for Windows 8 Metro app, or iTunes, so you'll still need another app to create playlists, etc.: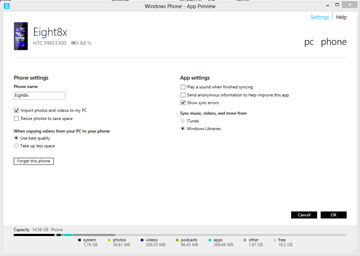 Still, and particularly if you've been using iTunes, the app makes it easy to get your music on your new Windows Phone 8 device.
The Windows Phone for Desktop app will not run on Windows RT devices (like the Surface RT), so you're going to have to get by with a patchwork of apps if you plan on creating playlists and then managing them and syncing them to multiple devices, including a Windows Phone, your desktop Windows 7 or 8 PC, and a Windows RT tablet or device.  A bit confusing, and oh, speaking of confusing, here's what you get if you type in "Windows Phone" from a Windows 8 PC that has both the desktop and Metro apps installed: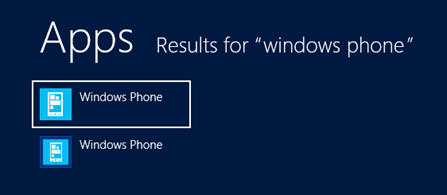 Take your pick!
You can get the Windows Phone 8 App for Desktop (beta) here.
(via Windows Phone Daily)