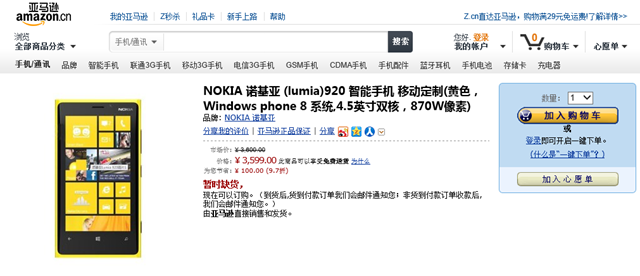 Nokia Lumia 920T, a variant of the Lumia 920 for China Mobile, was listed on Amazon China today. As shown on the product page, the pricing was about $576 USD (3,599 Chinese Yuan) and also available for pre-order. However, soon after being widely reported, the pricing is removed and it simply shows "Out of Stock".
Interestingly, some people who successfully ordered Lumia 920T phones notice the estimated delivery date is from Dec. 26 to 27. Of course, Nokia has yet to officially share the pricing or availability date for China mainland. ( via LiveSino)
Update: The orders are cancelled by Amazon China with an email statement, which mentioning "the pricing is wrong". Everyone who ordered will get a $5 Amazon China gift card for order cancellation.