Microsoft announced Windows Phone 7.8 during the Windows Phone Summit held back in June, however the company had since been quiet about the update, which is coming for all existing Windows Phone 7.5 devices. Details had been scarce about the update, and to this date nothing is known about the update except for an upgraded Start screen similar to Windows Phone 8. However, today an image from some sales training slides from Nokia China was leaked by Chinese forum it168.com. Below is the leaked image of the slide: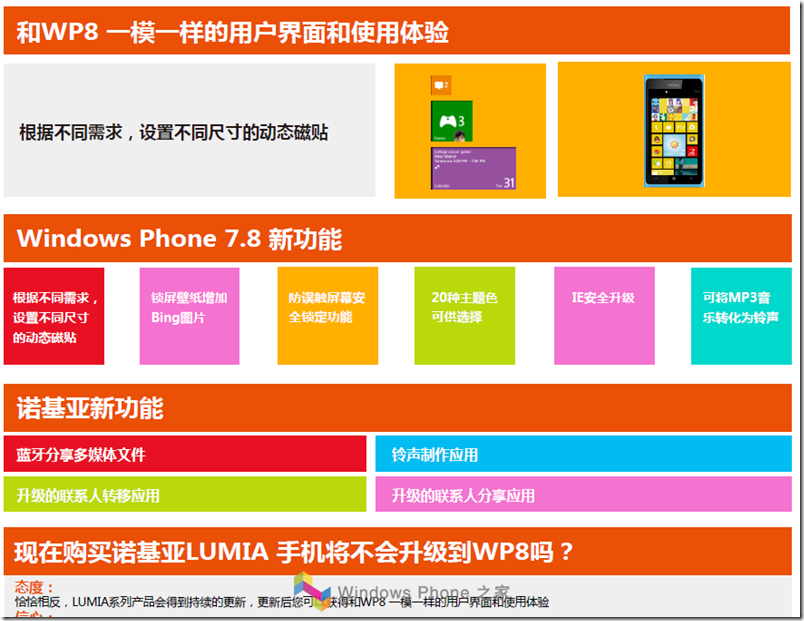 According to the slide, Windows Phone 7.8 is supposed to bring the following new features to existing phones:
Different sized Live Tiles
Bing wallpapers on the lock screen
New feature to prevent accidental touches to the screen
Choice of 20 accent colors
Internet Explorer security upgrades
Ability to convert MP3 as ringtones
In addition, Nokia Lumia devices will also receive the following new features:
Sharing of media via Bluetooth
Ringtone creation app
Upgraded contacts transfer app
Upgraded contacts sharing app
From the listing above, it appears the update won't bring too many new features found in Windows Phone 8 to existing devices, although there may be additional APIs (such as the Live Apps which allow developers to update user's wallpapers from their apps) that are not detailed in the slides. Interestingly, Nokia is training its sales staff to market Windows Phone 7.8 as "having the same user interface and experience as Windows Phone 8", and existing Lumia products will continue to receive updates from Nokia.
In terms of availability, WPCentral reported that the official Windows Phone Brazil Twitter account recently posted that the Windows Phone 7.8 update will be coming in Q1 2013:
[blackbirdpie url=https://twitter.com/windowsphonebr/status/268097361195196416]
Of course, like other updates for existing Windows Phone 7.x devices, the update's availability will probably be subject to different release schedules from OEM and carriers.