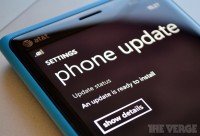 So Windows Phone 8 was launched almost exactly a month ago, and devices running the new operating system is already on sale in many countries worldwide. Whilst users are still enjoying their brand new devices, today details about the upcoming update has leaked to the web. According to @Football4PDA from XDA-Developers, who accurately leaked details about the HTC 8X prior to its launch, Microsoft is currently readying an update codenamed "Apollo Plus" for Windows Phone 8:
[blackbirdpie url=https://twitter.com/Football4PDA/status/273065963975503872]
This rumor was then shortly supported by The Verge, who via separate sources also confirmed the existence of the "Apollo Plus" update. According to the website, the update won't be a major update, but rather a "point update" aimed to push fixes and features, much like the previous "NoDo" update for Windows Phone 7. Below is an excerpt from The Verge indicating what is to be expected in the update:
We're told that Microsoft is preparing to include VPN support in Windows Phone, a missing option since the reset of Microsoft's mobile OS efforts, that will allow corporate users to connect to work systems — this feature may make it into the first Apollo Plus update. A Wi-Fi connection fix is also planned to let connections always remain on, alongside some audio improvements. Apollo Plus will also test Microsoft's ability to deliver Windows Phone 8 updates over-the-air, a change from the previous OS that required users to plug devices into PCs to get similar updates.
Microsoft previously admitted that they had "ran out of time" for a notification center feature for Windows Phone 8, and it remains to be seen whether this will make it as part of "Apollo Plus". If all goes according to plan, Microsoft is expected to unveil the new update during Mobile World Congress during 25 February 2013, and the update is expected to become available over-the-air to devices in Q1 2013.
(Image courtesy of The Verge)