Yesterday, we posted on news that Outlook.com now has more than 25 million active users, and in perhaps a spirit of sharing over the holiday season, Microsoft is continuing to talk numbers.  In the past few hours, Microsoft has announced:
Not to be outdone, Azure posted some new numbers, too (emphasis in the original).
Since the inception of the authentication service on the Windows Azure platform in 2010, we have now processed 200 BILLION authentications for 50 MILLION active user accounts. In an average week we receive 4.7 BILLION authentication requests for users in over 420 THOUSANDdifferent domains. This is a massive workload when you consider others in the industry are attempting to process 7B logins per year, Azure processes close to that amount in a week.

These numbers sound big right?  They are. To put it into perspective, in the 2 minutes it takes to brew yourself a single cup of coffee, Windows Azure Active Directory (AD) has already processed just over 1 MILLION authentications from many different devices and users around the world.  Not only are we processing a huge number of authentications but we're doing it really fast!  We respond to 9,000 requests per second and in the U.S. the average authentication takes less than 0.7 seconds.
Of course, and as Microsoft CEO Steve Ballmer was grilled on in today's shareholder's meeting, we'll have to wait until the numbers above have a positive effect on what for many is the one true number, the stock price: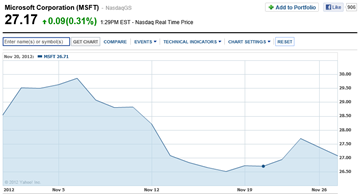 …which took a bit of a beating with the sudden announcement of Steven Sinofsky's departure, and hasn't followed the meteoric rise of Apple, although Microsoft and Google have performed similarly over the past two years: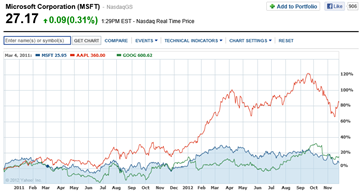 While many of these numbers can be put firmly in the "spin" category, painting a big impressive picture without much context, it's nice to see firm numbers at all come out of Redmond, and just maybe they'll have a positive impact on the stock price, as well.