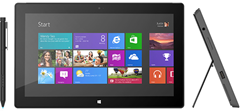 Microsoft announced some pricing details of the second in its family of Surface devices today, with Panos Panay, in a blog post on the Official Microsoft blog, detailing pricing on the two versions of Surface "Pro" (the full on Windows 8 version):
Today, I want to share a bit more detail about the growing Surface family of products and Surface with Windows 8 Pro, specifically around pricing. In January, Surface with Windows 8 Pro will be available in two versions and pricing will start at $899:

· 64GBstandalone version at $899

· 128GBstandalone version at $999

Both versions will both include a Surface pen with Palm Block technology and include the ability to use a Touch Cover or Type Cover (sold separately).
While this pricing is generally in line with what was expected, and in fact maybe even a little lower, Microsoft's decision to price the Touch Cover separately (currently at $120, with the Type Cover at $130), coupled with an understandable decision not to aggressively price the Surface to compete with, and outdo Microsoft's OEM competitors, means that almost by definition, the Surface is not going to be a great deal.
Microsoft has painted itself into a bit of a corner with Surface.  On the one hand, Surface is supposed to be, and Microsoft needs it to be, a showcase product for all that Windows 8 and Windows RT can be, both in terms of style and functionality, and as an alternative to tablets like the iPad, the Kindle, and a host of Android devices.
But on the other hand, Microsoft's partners were upset with the late and totally unexpected appearance of the Surface, and Steve Ballmer and co. can't afford to alienate the OEMs any more than they already have.
So while the seemingly obvious course, as Amazon is doing with Kindle, is to offer up Surface as somewhat of a loss leader – getting Windows 8 and the Windows 8 Store in as many hands as possible as quickly as possible by undercutting the competition and making Surface and almost irresistible buy, just isn't going to happen, not while Microsoft still has to appease OEMs.
That leaves Surface only to be a shining light on how a Windows 8 machine should and could look, but leaving it up to the OEMs to follow its lead and come in at a price point that will compete with the iPad.
Or of course, Microsoft could drop the price on its Surface family, something that's already rumored to happen.  But that means going head to head with its OEM partners, and is Microsoft ready to do that?
For Windows enthusiasts, the Surface RT is an interesting device, and the Surface Pro may be their next laptop, and their next tablet, too.  For other (most?) consumers, there are better deals out there, and Microsoft is going to have a hard time gaining much traction with the Surface with the section of the market it most needs to go after, those flocking to Apple (and increasingly, Android) devices, especially without further alienating the OEMs.
How's that for a rock and a hard place?