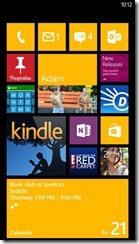 Back in June during the Windows Phone Summit, Microsoft announced the Windows Phone 7.8 update for existing Windows Phone 7.x devices. However no further details about the update, except that it features a new Start screen, were announced since then. Unofficially, rumors about the update had been trickling out as people were hoping that there is more to the update, and there had also been reports that the update had only recently reached RTM stage last week.
Today, Microsoft has finally broke silence with Terry Myerson, Corporate Vice President for Windows Phone division, posting on the official blog detailing some of the features coming in the update. Whilst there's not much to it, it does confirm what had previously leaked:
Windows Phone 7.8 also includes some other cool stuff. It doubles the number of theme and accent colors—to 20—so you can make your phone even more personal. There are also new lock screen features: the option to automatically display the Bing Picture of the Day plus the 'A1B2C3' PIN/password challenge to prevent accidental device wipes on phones connected to Exchange accounts.

…

Windows Phone 7.8 also expands the number of markets where customers can buy apps and use the Xbox service. Testing of this rollout is ongoing, but we've already managed to increase our global service coverage by over 30%, to 95 countries—a number that should continue to rise.
Terry Myerson also confirms that Windows Phone 7.8 will continue to stay and new devices running the OS will continue to be sold around the world, particularly targeting the lower price points:
New models running Windows Phone 7.8 are beginning to launch in many countries around the world, strengthening the ecosystem by bringing more Windows Phones to more people. These devices will typically be sold at a range of lower price points, meaning there will now be Windows Phones for everyone's budget and need. This is incredibly important for broadening the reach of Windows Phone across the globe and ensuring we have the right product for every market.
We already know that Alcatel and TCL have plans to launch the One Touch View device running Windows Phone 7.8, and there are reports that the Nokia Lumia 510 will soon be sold with Windows Phone 7.8 too. For existing users, Microsoft says that the update is coming in "early 2013", dependent on OEMs and carrier testings.
And if you think Windows Phone 7.8 is the end of the Windows Phone 7.x era, you may want to think again as recent rumors suggests that there may be more life to the Windows CE-based OS. According to German website WParea.de, a leaked roadmap from Nokia seems to suggest that there are plans for further updates past Windows Phone 7.8, currently dubbed "Windows Phone 7.x" in the slide: