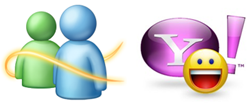 Six-and-a-half years ago in June 2006, we first reported that Microsoft and Yahoo! have reached an agreement to provide interoperability between their two IM services – Windows Live Messenger, which was still in beta form at that time, and Yahoo! Messenger. This was from their press release at the time:
Yahoo! Inc. (Nasdaq: "YHOO") and Microsoft Corp. (Nasdaq: "MSFT") today will begin limited public beta testing of interoperability between their instant messaging (IM) services that enable users of Windows Live® Messenger, the next generation of MSN® Messenger, and Yahoo!® Messenger with Voice to connect with each other. This interoperability — the first of its kind between two distinct, global consumer IM providers — will form the world's largest consumer IM community, approaching 350 million accounts.

Consumers worldwide from Microsoft and Yahoo! will be able to take advantage of IM interoperability and join the limited public beta program. They will be among the first to exchange instant messages across the free services as well as see their friends' online presence, view personal status messages, share select emoticons, view offline messages and add new contacts from either service at no cost. Yahoo! and Microsoft plan to make the interoperability between their respective IM services broadly available to consumers in the coming months.
The interoperability had lived on since the many revisions and version changes for both Messenger services – until this month. Today, Yahoo! announced on their official blog post that support for the interoperability between Yahoo! Messenger and Windows Live Messenger will be discontinued from December 14, 2012. Here's a quote from the post:
Yahoo! Messenger will no longer be interoperable with Microsoft Windows Live Messenger as of December 14, 2012. Microsoft buddies will still appear on your Messenger contact list, but they will be greyed out, and if you try to send instant messages to them, the messages will not be delivered.
This comes as Microsoft is in the process of retiring its Windows Live Messenger client, and transitioning all their users to Skype by 1Q 2013 (whilst retaining the Messenger backend however for Skype IMs). The Messenger API on Live Connect, with support for XMPP and MSP protocols, is also expected to be decommissioned in October 2013 and March 2014 respectively, with developers being directed to the Skype Developer website when visiting the Messenger section on Live Connect.
Whilst we can't say we have used the interoperability that much to contact our friends on Yahoo! Messenger in the past few years, but we're definitely sad to see this go as Microsoft winds down Windows Live Messenger.