The announcement of the Nokia Lumia 620 earlier today might not be the company's only strategy into the budget smartphone market. With Microsoft officially acknowledging that devices running Windows Phone 7.8 will be sold alongside Windows Phone 8 devices last week, it appears that the first of such device is set to be revealed soon. Mexican retailer Guerrero Móvil on their Facebook page today posted an image said to be the upcoming Nokia Lumia 505, coming exclusively to Mexican carrier Telcel. You can check out the image below: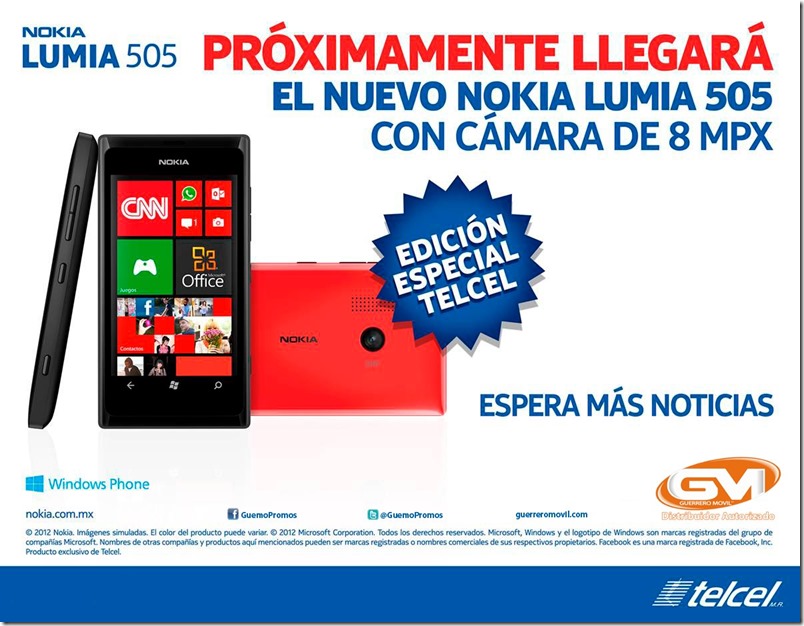 No other information was revealed about the device, except the fact that the device will sport a 8 megapixel camera. There's strong clues that this is a Windows Phone 7.8 device given that the render shows the old Windows logo as the Start button, and that the old Office logo is shown on the screen. Given the numbering of the device, the Nokia Lumia 505 might be closely related to the recently announced Nokia Lumia 510 – with WPCentral speculating that this might be a carrier-exclusive version of the phone similar to the Lumia 810 and 822 being carrier-exclusive versions of the Lumia 820.
Whilst there's no official acknowledgement of the news from Nokia nor Telcel, according to Chinese website Winp.cn it appears the device had shown up on the official Wi-Fi CERTIFIED website, giving some credibility to the existence of the device.
Guerrero Móvil mentions on their Facebook page that the Lumia 505 is expected to be officially announced next week, where more details and specifications of the device will be revealed. WPCentral speculates that similar to the Lumia 510, the device will sport a 800 MHz single-core processor, 4-inch TFT WVGA display, 4GB of storage, 256MB of RAM, and a 1300mAh battery.