Last week we reported a rumor that the next update for Microsoft's latest mobile OS – Windows Phone 8 – will be codenamed "Apollo Plus". The rumor was corroborated between Twitter user @Football4PDA from XDA-Developers and Tom Warren from The Verge. However, today a report from WPCentral, which claims to have came from a "known and trusted source", suggests that contrary to previous rumors, the update may be codenamed "Portico" instead of "Apollo Plus".
WPCentral rates this on their Rom'o'meter as 9/10, indicating that this has a high chance of being true. In fact, if Microsoft is still sticking to their Windows Phone codename naming convention, where all the codenames are ending with "o" (i.e. NoDo, Mango, Tango, and Apollo), the codename of "Portico" actually makes sense.
The word "Portico" usually means an extension porch area in front of a main entrance of a house. This could be suggesting that previous rumors about the update being a minor one which aims to simply push fixes and a small number features to the OS (similar to NoDo was to the original Windows Phone 7, which brought copy-and-paste to the OS) may in fact be true. According to previous reports, the update will bring VPN support, some audio improvements, as well as the ability to allow WiFi to remain on even when the screen times out.
In fact, on the last one, reports from across the internet has indicated that the feature was spotted on a number of devices running build 8.0.10211.204 of the OS, including the HTC 8S, HTC 8X, and the Nokia Lumia 920T. Check out a screenshot of the feature, courtesy of WPCentral: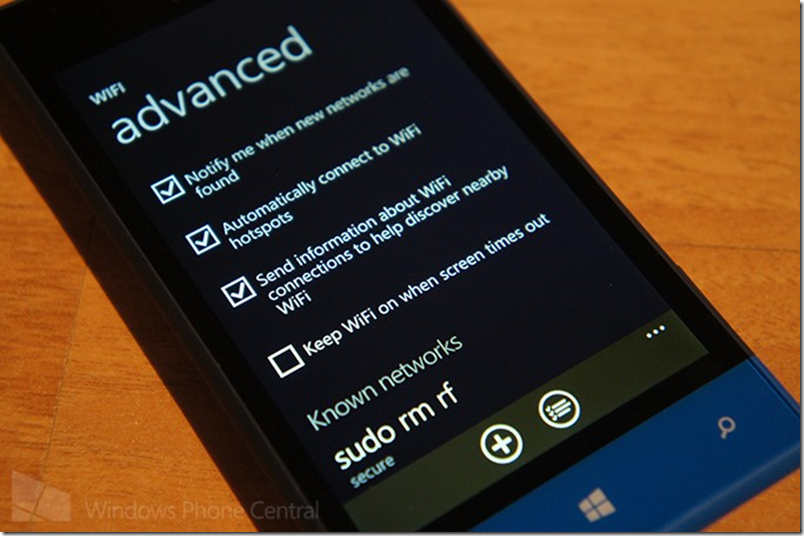 Besides those features mentioned above, WPCentral hinted that Microsoft might have "a few surprises" in line for us in this upcoming Portico update. What would you like to see in the next update? Let us know in the comments below!