We first reported the Alcatel One Touch View back in October, a new device that will come pre-loaded with Windows Phone 7.5 (potentially upgradable to WP7.8) from a brand new OEM. Shortly after, we also reported the TCL View, which is essentially the same device from the joint venture between TCL and Alcatel-Lucent. It appears the Alcatel version is due to be released very soon in Russia, according to Mobile-Review.com. The website got a chance to review the new device, and provided detailed specifications and photos of the One Touch View. Check out some of the photos below: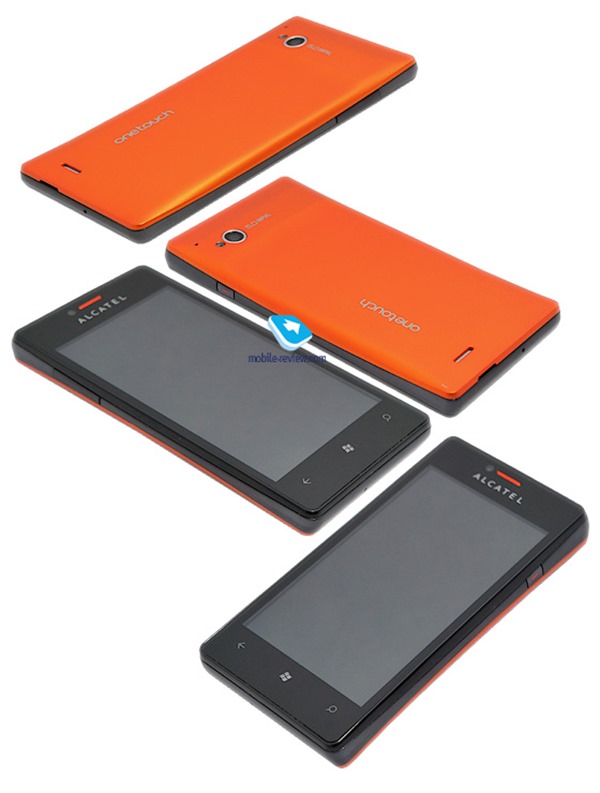 As reported earlier, the device is set to come with a 4.0-inch IPS LCD WVGA display, Qualcomm MSM7227A 1GHz single-core processor, 512MB of RAM, 4GB of storage (with no expansion slots), 5 megapixel main camera and VGA front camera, and a 1500 mAh battery. The device comes in two colors – black and orange – and has a very nice finish at the back.
What's most interesting about the device is that the phone is missing the signature Windows Phone camera button, meaning that whilst you can tap the screen to take a photo, you won't be able to go from pocket-to-shoot by simply holding the camera button – one of the most touted feature of Windows Phone.
The Alcatel One Touch View is set to go on sale in Russia on December 15, and will be sold for around 6990 Rubles.