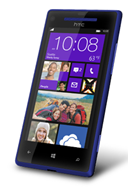 First of all, thanks to all of you who have submitted entries to our little contest.  If you remember, we were given an HTC Windows Phone 8x when we attended the Windows Phone 8 launch event, and since we picked up a Nokia 920, we're giving the HTC away.
We wish we could give every one of you a phone, and it's going to be a tough decision to go through all the entries and select just one.  We've had long entries, and short, and even a couple of poems!  A number of you are looking for WP8 devices to test your apps on, that's good news for Microsoft as it continues to encourage app development.  Again, we wish we had a phone for each of you!
While we sort through all the entries and get ready to make a decision (you still have until midnight PST on Dec 12 to get an entry in), here are some somewhat random quotes pulled from the entries.
I adamantly believe WP8 is the best phone OS there is right now. There is no grey monotony and no one tells you they invented multitasking; no hours spent jailbraking to make it half-workable; no endless customizations to make it pretty. Modern UI is brilliant – I'm in love with it since Zune.   – Alex

This is the tip of why my phone's great,

And it's looking even better with WP8!

IE10 lets pages render fast,

DataSense helps to make your quota last.  -Michael

Why do I want a Windows Phone? Microsoft is the first company to truly understand that "less is more". The less time I'm forced to use my smart phone, the more I want to use it. The less I have to ask for information, the more informed I am.   – James

I want a windows phone because I am a fool. Over two years ago I was waiting for the first windows phones to come out, but I lost patience and just got an iPhone instead. I've been hating myself ever since.  – Jeff

Because the 8X is handily shaped like a Pillow, i can rest my head on it and take a nap, dreaming of the good things in life like Unicorns, Rainbows, and the fact that there's one less iPhone out there.  – Justin
Thanks again to everyone for participating, we'll announce the winner on Thursday!