Yesterday, Bing announced some updates to its "Snapshot" column, and not to be outdone, today the "Social Sidebar" section of Bing's newish 3 column look has been updated, too.
Gone is the dark and somewhat out of place column to the right, which never felt right to us, and was easy to ignore, much as one might ignore ads in a sidebar (*ahem*).  Instead, and as we showed you last month, the new social sidebar is clean and white like the rest of Bing: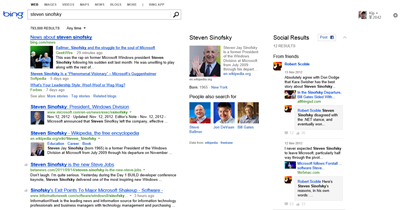 According to a blog post on the Bing Search blog, there are some other changes to the sidebar along with the clean new look:
Today we're rolling out a new streamlined design for our social sidebar feature making it easier to find people who are relevant to your search based on what they've shared, publically blogged or tweeted about. In a glance you can now see friends, experts and enthusiasts from leading networks including Facebook, Twitter, Foursquare and Klout have shared. While the sidebar will remain off to the right of search results – allowing you to decide when and how to interact with it – we have made some changes to the design:

We have removed the need to hover over a friend or expert to see additional content – now with one glance you can see content front and center clearly marked "social results".
We have left-justified the results so there is less blank space on the page.
If you want to dive and see additional social results, we've added "+ see all" icon that lets you dive into more information.
As always, these changes will be "rolling out over the next few days", but we're seeing them here now, so it looks like Bing is getting better at timing their rollouts to their announcements.  What do you think of the new look?  And perhaps more importantly, are you using the "social sidebar" results in your searches?   Will this new look help to convince you to pay more attention to them?  What else do you want to see on the Bing search results page?