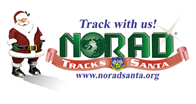 Note – our friend Brinke Guthrie has been anxiously awaiting Santa Claus and wrote this post for us. 
It seems the search engine wars between Google and Microsoft know no boundaries- this year, they're stretching those boundaries all the way up to the North Pole.  Since 2007, Google has been the force behind "Norad Tracks Santa," a multimedia site that allows you to track the flight of The Jolly Old Elf on his Christmas Eve mad dash around the world.
This year, Microsoft has stepped up as the lead tech partner among many others, and you'll see Kris Kringle do his thing on Bing Maps and Cesium (for the Google Earth effect.)
(You'll also still see videos on YouTube, so Google isn't totally out of the game.)
There are also apps for Windows Phone, Android, Apple products, and as you might expect, Windows 8.  You can even buy Norad Santa loot.
SearchEngineLand reports the parting of Norad Tracks Santa and Google was a mutual one.
Oh, and if you want the real story on what's under the hood of Santa's sleigh, look no further.