Microsoft account has been the identity service for all your Microsoft products and services – Windows 8, Windows Phone, Xbox LIVE, Xbox Music, SkyDrive, Outlook.com, and even Office. However, one of the biggest complaints about Microsoft account is the inability to migrate the region/market associated with one's Xbox LIVE membership (including Zune and Xbox Music) from one to another. If you started off your Xbox LIVE (or Zune/Xbox Music) account in one country then later on moved to another, you're basically stuck with your original country unless you start over with a new account again, losing all your achievements, gamerscore, purchase history, Microsoft Points, and more.
The company promised back in May last year that this is one of the issues Microsoft is aware of, and the company is in the works of providing a solution:
There are still some areas we continue to work on such as migrating your [Microsoft] account (credit cards and purchase history) from one market (currency) to another if you've connected your account to services such as Xbox LIVE.
In October last year, the company finally provided a solution for Xbox LIVE users to move the region/market associated with their account. However, the solution at the time was a very long process – the migration process may take up to 6 weeks – during which the user will not be able to use their account.
It appears a better solution may be coming really soon. Neowin recently reported that Microsoft is currently pilot testing an Xbox LIVE account migration feature which allow users to migrate the region/market associated with their account almost instantly. Below is a screenshot of the feature in action: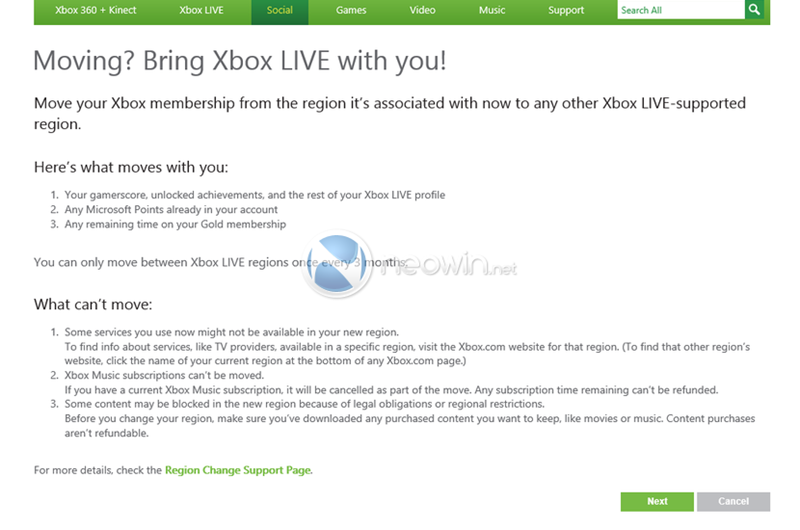 According to the above screenshot, users are limited to one migration every three months. Once the user has migrated their account, their entire Xbox LIVE profile, gamerscore, unlocked achievements, Microsoft Points, as well as their Xbox LIVE Gold membership will be retained. However, their Xbox Music subscription will not be migrated, and the subscription will be cancelled instead with no refund given for any remaining time (users can re-subscribe in the new region after the migration). Certain services and purchased contents such as music or movies may also not be available in the new region, due to geo-fencing and license restrictions.
It was reported that the process only requires several quick steps, and the account was migrated to the new region/market instantly, showing a significant improvement over the previous process. There is no confirmation as to when this feature will be made available to everyone, however there were suggestions that the feature might go live in the "next few weeks", possibly as soon as January 15.