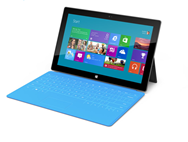 Last week reports started surfacing about a potential leveraged buyout of publically held Dell, Inc., which would reportedly take the company private as it struggles to keep up in an increasingly mobile world.  Now today, CNBC and The Wall Street Journal are adding Microsoft to the list of potential investors in Dell, with The Wall Street Journal reporting:
The software company hasn't made a commitment, but if it were to join an investor group for a Dell buyout, its (Microsoft's) investment would likely be in the range of a couple of billion dollars, this person (a person familiar with the deal deliberations) said.
While The WSJ thinks that "its unclear" what interest Microsoft would have in Dell, it seems to us to be a worthwhile investment if Microsoft is serious about becoming a "devices and services" company, something CEO Steve Ballmer announced back in October in a letter to shareholders, as reported by Mary Jo Foley:
Last year in this letter I said that over time, the full value of our software will be seen and felt in how people use devices and services at work and in their personal lives. This is a significant shift, both in what we do and how we see ourselves — as a devices and services company. It impacts how we run the company, how we develop new experiences, and how we take products to market for both consumers and businesses. The work we have accomplished in the past year and the roadmap in front of us brings this to life.
Today, Microsoft announced the final, no really, availability for the Surface for Windows 8 Pro, which will go on sale beginning February 9th in the US and Canada.  The Surface Pro will begin at $899 US, and the Surface RT will get a new SKU (you'll be able to buy the 64GB version of Surface RT without a Touch Cover, for $599), as well as becoming available in 13 additional markets.
But while Microsoft hopes to gain traction for its "devices" through expansion of Microsoft Stores, gaining the marketing and brand power of Dell, along with a greater ability to influence devices design (at the risk of further alienating its other OEM partners), could make a lot of sense for Microsoft as it moves from a software driven to a devices and services driven company.
Microsoft certainly has "a couple of billion dollars" laying around to invest in Dell, and keeping Dell firmly in the Microsoft camp could help both companies as they move into the Post PC era, so we'll see how this all plays out.