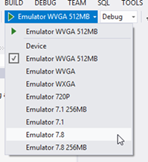 Well it can't be long now before Microsoft, phone manufacturers, and the wireless carriers release Windows Phone 7.8, the long awaited updated to Windows Phone 7.5 that will bring Windows Phone 8's three sizes of tiles and some new functionality to older Windows Phones.
Today, Microsoft released an SDK updated to provide emulator images for Windows Phone 7.8 for Visual Studio.  A post on the Windows Phone Developer blog announces the SDK, available now.  The SDK allows developers to emulate both the 512mb and 256mb Windows Phone 7.8 devices, which the post promises "are starting to ship", and are widely rumored to become available for existing devices soon.
While 7.8 will bring new functionality for an app's primary tile (customized small tile, wide tile support, flip tile template support), and allow secondary tiles to take advantage of all three tile templates, there are "no new APIs available to Windows Phone apps in Windows Phone 7.8".
You can learn more about the SDK and get links to download it from the Windows Phone Developer blog.