Looks like the folks at Microsoft might be learning how to write apps for their own operating system, finally.  Today, in a post on the Inside SkyDrive blog, Mike Torres announced that the SkyDrive apps for Windows 8 and Windows RT, released back in October, are adding Live Tile functionality:
Starting today, the SkyDrive app from the Windows Store will start showing you notifications on the live tile when you add new files to your SkyDrive. Now the tile for the SkyDrive app will be useful for more than just launching the app, by providing at-a-glance info on what's going on in your SkyDrive. Whenever you add new files to SkyDrive, the app tile shows you relevant details. If you add a document, you'll see the document name, along with when it was added, and what folder it's in. If you add photos, the tile gives you a nice view of those photos.
The Live Tiles, an essential feature of Windows 8's Modern / Metro (Modtro?) look, will show not only some of the latest images, but changes to your SkyDrive folders, such as "you added files to this folder…".  The blog post provides some screenshots as illustration: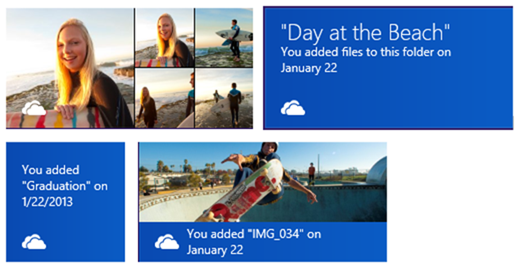 While we're still a long way off from having a useful set of apps from Microsoft that offer the functionality of Windows Live Essentials, or the competition for that matter, it's good to see Microsoft making incremental progress.