Today on a blog post over at Nokia Conversations, Nokia has announced that Windows Phone 7.8 is ready for rollout and will be available for all Nokia Windows Phone 7.5 devices.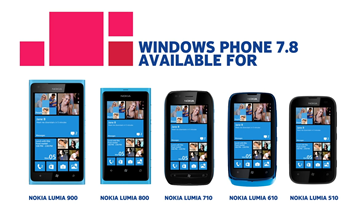 Windows Phone 7.8 brings Windows Phone 8's three sizes of tiles and a new set of colors to Windows Phone 7.5 devices, was first announced all the way back in June of last year, at the Windows Phone Summit announcement of Windows Phone 8.
While the update is ready for Nokia Phones (we haven't heard about others, as of yet, but the experience should be similar), you're still going to have to wait for your mobile operator to release the update.  From the Nokia Conversations post:
The Windows Phone 7.8 update is now rolling out for Nokia Lumia smartphones through February. Delivery of the update is operator dependent, meaning you will receive a notification in the coming weeks if you have an unlocked phone or if your operator has approved the update. If you don't receive the update notification within the next three weeks, please contact your operator for more information.
Do you have a Windows Phone 7.8 device?  Have you received an update notice?  Let us know when you do, either in the comments here or on Twitter @liveside.