Last November, Bing unveiled Bing.com/Elections, an interactive experience that attracted almost 32 million people on Election Day, rivaling network news viewership.  Now, expanding on that experience, Microsoft is readying a new interactive experience for President Barack Obama's State of the Union address on Tuesday February 12th at 9pm EST.
Bing will be opening up the website at Bing.com/Politics on Saturday, and introducing a new feature, Bing Pulse, along with Bing Beat, Bing News Slider and Social Conversations, all in order to allow "millions of Americans" to register their reactions in real time, according to an online press conference just concluded with Mike Nichols, Corporate Vice President at Bing, and Mark Penn, now a Corporate Vice President for Strategic and Special Projects for Microsoft, reporting to Steve Ballmer.  Penn is well known in US political circles as a strategist and pollster, working for both Bill and Hillary Clinton on their presidential campaigns, as well as helping British Prime Minister Tony Blair win a third term in 2005.
Bing Pulse, expected to be the "largest live online poll in history", will register viewer reactions to the State of the Union address as it happens, allowing them to "pulse" their reactions every 5 seconds, and will track reactions by gender and by political affiliation: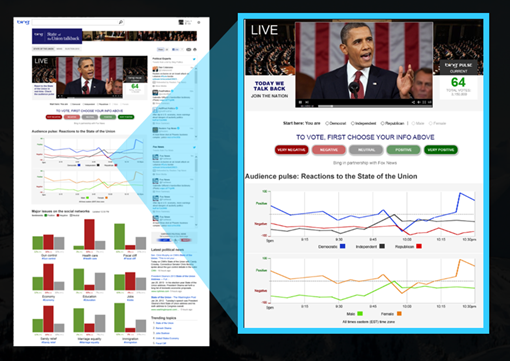 The State of the Union is called for in the US Constitution as a way for the President to "give to Congress information of the State of the Union and recommend to their Consideration such measures as he shall judge necessary and expedient", and since 1934 has been given as a speech before Congress.  Before that, a State of the Union address was given as a written report.
While the State of the Union won't be anywhere near as popular an event as the election was, Bing was clearly encouraged by the positive response to its Bing.com/Elections efforts, and we can expect to see more involvement in the political process, especially with Penn involved.
You can learn more about Bing's State of the Union experience on their blog post.