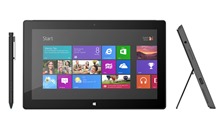 Today, the Microsoft Surface Pro went on sale for the first time, and depending on what you read, it's already "sold out".  The 128GB version is currently "out of stock" at microsoftstore.com (the 64GB model doesn't have the same "out of stock" tag, currently, although apparently it did for a time today).  Best Buy is currently out of stock, as is Staples.
While it is good news that some Surface Pros are selling, there is a fine line between consumer interest and marketing manipulation, and being "sold out" is almost a meaningless term unless we know how many Surfaces were available for sale, and the short answer to that appears to be "not many".
A number of reports have said that Best Buy employees had reported only 1 – 3 Surface units ready for sale, and in trying to track down a 64GB unit I just called a local Staples store that was listed on their website as having "low stock".  They were sold out, and when I asked the salesperson how many they had sold today, she said "two".
Our friend PicturePan2 from LiveSino.net will be here for the Microsoft MVP Summit next week and is planning to buy a Surface Pro 64GB, and so he has been following Surface Pro's availability quite closely.  When he saw reports that the Surface Pro had sold out, he fired off a quick post on Weibo (China's Twitter), and got a reply from a "Microsoft China Strategic Director", saying (with apologies for the less than perfect Microsoft Translation):
Heard that supply very nervous, Seattle Microsoft Store stock up only 400 units.
Anecdotal, to be sure, but interesting coming from a Microsoft executive and perceivably not too far off the mark.
To Microsoft's credit, if they have been trying to create a bit of buzz around the Surface Pro launch by offering only a few Surface Pros for sale and then shouting "Sold Out!" from the rooftops, well, it appears to be working.  Shortly after the first reports of a sellout of the 128GB model, I quickly counted 8 separate stories in my Google Reader timeline repeating the news.  A post by "Ron" at WinBeta.com is riding in the fourth spot on Techmeme right now, with 20 related posts, and WinBeta has posted another somewhat breathlessly titled post, reporting that Microsoft issues a statement on 128GB Surface Pro out of stock crisis, is working to "replenish supplies".
To be fair, not everyone is taking the "sellout" at face value.  Alex Wilhelm at The Next Web implores us to "relax", and Matthew Miller at ZDNet, while calling out Microsoft for "blowing" the launch, did end up getting a 128GB Surface Pro, and had actual good things to say about Best Buy and Staple's customer service.
If you remember, much the same thing happened with the Surface RT launch, and even though there was lots of initial talk of "sellouts", RT has reportedly yet to break a million in sales, some three months out.
So without any Surface Pros left to buy today, we're left with questions: did Microsoft "sell out" as many Surface Pros as they possibly could sell today?  And how many was that?  Is this a case of Microsoft not being able to produce enough devices to satisfy the market?  Do they just not have any idea how many they might sell?  Or, as it appears to us, is this a marketing ploy pure and simple, designed to create a buzz?
Even with the buzz creation effects, at the rate that Microsoft sells consumer devices, which is to say slowly if at all, we're not sure that running out of Surface Pros on the first day with people lined up to buy them is a winning strategy.