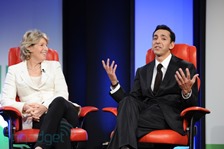 At the Dive Into Media conference produced by the Wall Street Journal's All Things D this afternoon, Microsoft's Yusuf Mehdi, Senior Vice President of the Interactive Entertainment Business (IEB), and Nancy Tellem, Corporate Vice President of Microsoft's LA Studios, took the stage to drop some new numbers about Xbox usage, talk a bit about new and upcoming content, and without revealing details about the next Xbox, make it clear that a wider audience and more forms of entertainment are in the works.
While it's difficult to capture exactly what was said (the sessions weren't livestreamed, and we're gleaning information from Engadget,  Ina Fried's posts (by the numbers and content producer) and the #dmedia Twitter hashtag), Mehdi apparently started out by releasing some new numbers, updated from September of last year, and dropping some quotes:
76 million Xboxes sold (up from 70 million in September)
46 million Xbox Live accounts (up from 40 million)
24 million Kinects sold (up from 20 million)
38% of Xbox users are women
51% are people who have kids
Xbox use is at an average 87 hours per month
There's been a 51% y-o-y growth in entertainment usage
While they didn't talk much about any new Xbox devices, Tellem did talk a bit about the content her LA Studios team of 150 is producing, saying that they're "looking at a very robust production schedule", and a range of scripted interactive content.  She then expanded on the interactive aspects of the new offerings, telling All Things D's Peter Kafka:
"Particularly when you are looking at the younger demographic," Tellem said, "interactivity is a natural extension of what they do."

The content could be 10 minutes or an hour and a half, Tellem said.
Microsoft won't be "imposing interactivity…it has to be organic".  The content will likely be part of a subscription service: Microsoft likes the "cell phone model", with a subsidized device and a subscription, and while not ruling out the possibility of being a pay-TV provider, Mehdi said he doesn't see the "value add" in such a model, but wouldn't be tied down to saying if original programs would be covered under a monthly fee or cost members extra.  Microsoft "hopes" to have the first content from LA Studios (which Peter Kafka wrote about in January) ready by the end of the year.
Hopefully All Things D will have a video up of the session within a day or two, although their track record hasn't been stellar in putting up full accountings of these types of interviews.  Still, Microsoft sounds like it's getting ready to talk more about the next versions of Xbox, about LA Studios, and about the growing importance of entertainment offerings to the Xbox brand.  With lots of rumors swirling around new Xboxes, everything from DRM protection to requiring Kinect, to Blu-Ray and a larger hard drive to expanded voice command interactivity, we're looking forward to hearing more from Microsoft.
Update: Microsoft has issued a press release related to Mehdi and Tellem's appearance at Dive Into Media.