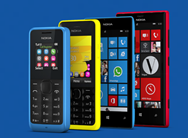 At MWC in Barcelona today (well 11:30 pm Sunday here in Seattle), Nokia CEO Stephen Elop took the stage to introduce a new range of Asha and Lumia phones, bringing the price point for Nokia phones downward while promising more innovation in the high end coming later this year.
Nokia introduced two Asha phones, which will be sold in Asia, Russia, Africa and Europe, including the Nokia 105 with a 35 day battery life and a 15 Euro (about $20 US) price tag, and the Nokia  301, a 65 Euro phone with video streaming, "3.5G" internet, and Nokia Xpress browser, launching in more than 120 countries.
The two Windows Phone devices, the Lumia 520 and 720, are mid to low range Windows 8 smartphones, with what's now becoming standard for Nokia, an emphasis on camera quality, and an expanded set of location services now residing under the HERE name.  Nokia location services like Nokia Drive will now be known as HERE Drive, for example.  Nokia also introduced Nokia Place Tag, which along with Here Maps and City Lens, uses the LiveSight sight recognition technology, in this case to label photos quickly and easily.
While Nokia didn't introduce any new high end smartphones or a Windows 8 tablet, Elop did promise that there's lots more to come in 2013.  For now, these lower end devices should help to get the ball rolling with the numbers games, at least, and bring Nokia and Windows Phone more strongly into markets like China, India, and Africa.  At the same time, Nokia is betting heavily on its location services, and branding HERE services while expanding developer efforts should help to drive innovation, although it continues to be a mystery how Microsoft's Bing mapping apps and services, which seem to be redundant to the HERE services, will fit into this cross company ecosystem.