The Nokia "Laser" was first reported back in January this year as a variant of the current Lumia 920 designed for U.S. carrier Verizon Wireless. The device, with a model number reported to be RM-860, was spotted on the FCC certification listing last week. A few days ago, The Verge revealed that the Nokia "Laser" will likely to be named Nokia Lumia 928.
Today PhoneArena managed to get hold of a screenshot from Verizon's internal system, which pretty much confirms the official naming: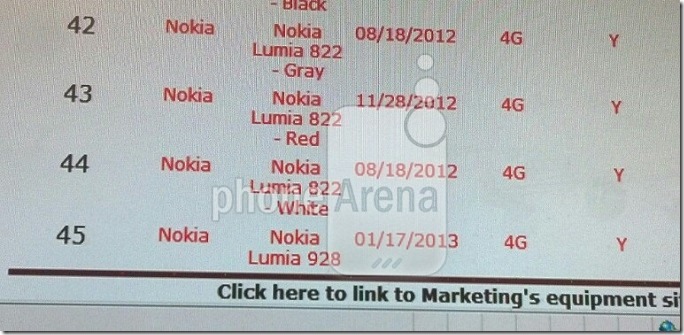 As you can see, besides the Verizon carrier-exclusive Lumia 822, the screenshot also shows the Nokia Lumia 928 as a designated phone for the carrier. In terms of specifications, we reported that the device will feature a WXGA screen resolution akin to the Lumia 920 (and the only Windows Phone that currently has such resolution), and based on the numbering, we expect that the device will have similar, if not identical, specifications to the Lumia 920 (including the 8.7-megapixel PureView camera).
We do expect the phone will look slightly different from the Lumia 920 however, based the image of the bottom of the device given in the FCC listing, although don't expect a change to an aluminium casing – that's designated for the Nokia "Catwalk" on T-Mobile:

When the Nokia Lumia 928 debuts, it will be marketed as a flagship device for Verizon – meaning that the operator will market it heavily alongside other rival top tier devices. For those Verizon customers eyeing the Lumia 920 and didn't make the switch to AT&T, the Lumia 928 should make you happy.