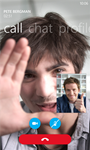 Back in January, citing "issues with device stability", Skype for Windows Phone temporarily disabled Windows Phone People Hub integration, promising to work with the Windows Phone team to get it back. Well they have, and today it's back as part of an update for Skype on Windows Phone. Of course, it wouldn't be Microsoft without some caveats, and the People Hub integration only works with Windows Phone 8 "Portico" updates or above (8.0.10211.204), but at least it's back. According to a post on The Verge, and a note on the Skype download page on the Windows Phone Store, there's also new support for high definition video. Here's the list of "What's new" and "Features" from the store:
What's new?

– Face-to-face video calls look better than ever with high definition video support.

– Show your smile or just what's around you – with front and rear camera support.

– Video calls in portrait or landscape, whichever feels best.

Features:

– Call friends and family with free Skype to Skype voice calls over 3G* or WiFi.

– Make free video calls to anyone else on Skype as well as low cost calls to mobiles and landline around the world.

– Send instant messages to friends on Skype, as well as friends on Messenger if you sign in with your Microsoft account.

– Stay in touch even when the app is closed, with call and message notifications.

– See all your Skype contacts in the People Hub**.

** Available on Windows Phone version 8.0.10211.204 and above.
You can download Skype from the Store, or it should be showing up on your Windows Phone "Portico" soon.