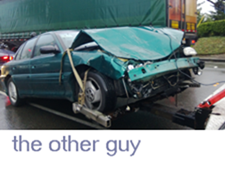 Sometimes you're in the right place at the right time. Sometimes, not so much. Instead of bringing you what turned out to be a slew of Microsoft news today, we were dealing with the aftermath of what may have been a texting-while-driving (but certainly a not-paying-attention while driving) incident from yesterday. To make a long story short: while at a stoplight, a car came up from behind but failed to stop, or even slow down, until we put a stop to that, literally.
Luckily no one was hurt, and insurance is kicking in, but suffice to say there's still a lot that needs attending to. So as much as we wanted to be pounding out stories all day, real life reared its ugly head, and so we're going to have to play catch-up on the day's announcements.

We could have used Pandora for Windows Phone to soothe some frayed nerves, and finally, today, after months of waiting, it's here. The new Pandora for Windows Phone app has all the features available on other platforms, and also offers (almost) a year's worth of ad-free listening (until Dec 31, 2013). You can also pin favorite radio stations right to your home screen for one touch music launching, something the other platforms don't offer. Pandora also works with "Kid's Corner", so you can set parental controls for explicit lyrics and the like for when you're handing off your phone to your kids. You can read more about Pandora for Windows Phone on the Windows Phone blog, or download it here.

Bing had big news today, too. Expanding on the Snapshot feature Bing introduced last May, which featured rich information at a glance for movies, restaurants, and hotels, Snapshots will soon include people places and things from "among the most common searches on Bing". A blog post on the Bing Search blog explains:
(L)ast June, we introduced a feature called Snapshot, which enables answers at a glance in the center column of the search results page. The result is a richer set of search results to help you better understand and explore the real world. We started with movies, restaurants and hotels.

The underlying technology for Snapshot is designed to develop deep understanding of the world around us not only as a collection of entities (people, places and things) but also the relationships between those entities. Inside the Bing engineering team, we call this technology Satori, which means understanding in Japanese. Over time, Satori will continue growing to encompass billions of entities and relationships, providing searchers with a more useful model of the digital and physical world.
We're not seeing the new Snapshots here just yet, are you?
Too bad, because a search for Frank X. Shaw or Eric Rudder could have been interesting. Recently, the two hosted a Microsoft TechFest showcase, and our friend at MSFT Kitchen, Stephen Chapman, got his hands on some apparently unreleased videos showing off some new features of Fresh Paint for Windows 8 "Blue", and new voice search capabilities coming to Windows Phone and Bing. Good sleuthing, Stephen!
And just to wrap things up, there was an update for OneNote for Windows 8 today, too. The updated app features improvements to pen and ink input for devices with a stylus (like the Microsoft Surface Pro), and support for Office 365 notebooks. You can read more on the OneNote blog, and download the app from the Windows 8 Store.