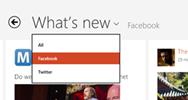 Today, Microsoft announced that by tomorrow (and maybe even tonight if you're lucky), Windows 8 users will be offered updates for three of the "core apps" that shipped with the new version of Windows: Mail, Calendar, and People. A post on the Windows Experience Blog by Brandon LeBlanc (congrats again, Brandon, by the way!) announces the upcoming updates, and highlights some of their main features.
The Mail app, probably the most disappointing of all the core apps as it sits now, is getting a number of improvements, including filter by unread mail, create and delete folders, select and move all mail from a folder, flagging mail, special handling of draft email messages, search for email on the server, and better handling of web formatted content pasted into messages, and more.
Calendar is getting a new look (should we dare hope what this means for the Outlook.com Calendar, or will we be stuck in 2005 forever?). Gone are the full blocks of color, replaced by a thin line to the left of the appointment: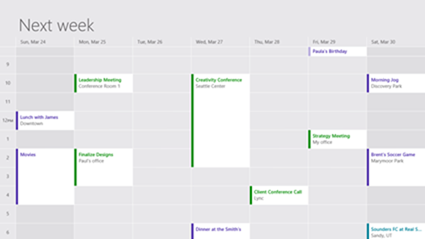 Along with that, there's a new "work week" view, Scheduling assistant for Microsoft Exchange, and more.
People has been updated as well, and now features new navigation and the ability to post to Facebook, along with improved filtering and switching between views.
You'll have to manually update the apps once they appear, so keep an eye on the Windows Store from within Windows 8, and let us know what you think of the new, improved apps.