Yesterday brought us updates to some of the core apps for Windows 8, refreshing Mail, Calendar, People, and Messaging, and today, there are more updates if you're a Windows 8 user, this time for Xbox Music and Video: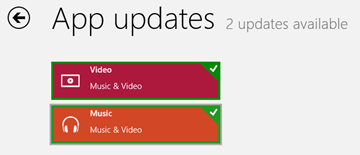 Again, if you don't see the updates listed in the Store, check the Store settings (in the Charms Bar), choose "Settings", and click on "check for updates".
Much like the core app updates, the changes to Xbox Music and Video are incremental. Paul Thurrott, who is writing a book about Xbox Music and so has crawled through every nook and cranny of the app, has a good rundown of all the changes. While he says there "there isn't a single major new features, there are many, many small changes that should please anyone struggling to use this app or the new services that back it".
Included in the changes are lots of descriptive text boxes sprinkled throughout the app to explain how things work, music matching to make music from your personal collection available from your "music in the cloud" collection (as long as it's available in the Xbox Music Store, that is), an in-app volume control, view filtering, related artists, and more.
A list of changes to Xbox Video is a little harder to come by (hey, did you know that searching for "Xbox Video" from within the Windows Store returns 0 results, that you have to search for "Video"? Nice!), and Microsoft has yet to blog about the new releases. In fact, Xbox Live's Major Nelson is tweeting out links to Tom Warren's post on The Verge about Xbox Music instead of a link to any official news, but if we've missed a blog post, let us know.
Anyway, another day of incremental changes to apps that probably still need major work, but progress is progress, isn't it?