Microsoft China is expanding Surface RT tablet distribution to new retailers in China. Last week, the company announced new official flagship store on Tmall and 4 new retailer partners, including 360Buy, PC Mall, OneZero, and Sundan. The pricing from these stores is same with the price currently in Microsoft China online store and Suning, starting at ¥3688 Chinese Yuan/$593 USD.
"We are excited to partner with more leading retailers, to expand Surface RT sales distribution in China, and allow more Chinese customers experience and buy the innovative product easily. With emphasis and commitment to the China market, Microsoft keeps expanding sales and service network for better experience,"Microsoft Greater China Region CEO Ralph Haupter said in the press.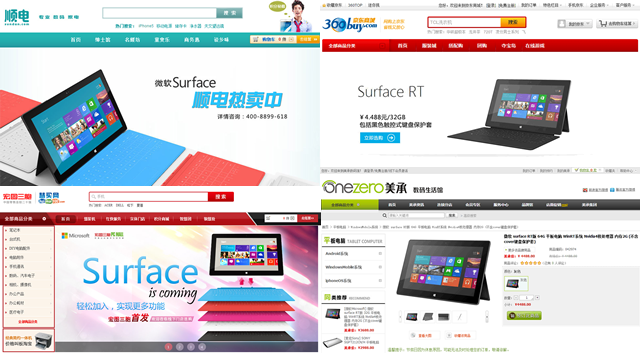 Also, last week, Microsoft China opened its official flagship store on Tmall, which is a B2C (Business to Comsumer) platform from the Chinese online C2C leader Taobao. Similar to the Microsoft China online store, the tmall store provides Surface RT, Office 365/2013, Windows Phone devices, mice and keyboards, and upcoming Surface Pro in China. According to the monthly sales number on the page, only 14 units of 32GB and 64GB Surface RTs were sold so far since last week.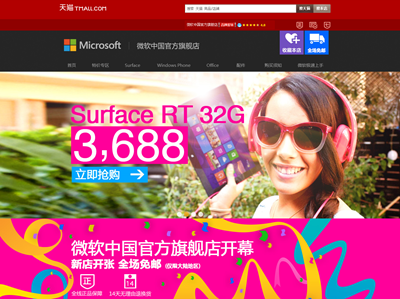 We understand Microsoft hopes consumers in the largest market can help boost their sales. Unfortunately, the sales of Surface RT in China is not good from what I heard. Though Surface Pro is coming to China soon, Microsoft China has not yet shared the availability date or pricing.
Update: Microsoft China announced Surface Pro will be available in China on April 2nd. ( via LiveSino)